The Pema by Realm
The Pema by Realm is a vibrant 4-Star boutique design hotel in the heart of Thimphu with a passion for meaningful comfort and practical luxury. We offer the discerning world traveler an authentic experience of the Bhutan of today, a balance of traditional and modern.
VISION
To provide the finest hospitality experiences in Bhutan, and in doing so, contribute to nation building.
MISSION
Creating Memorable Experiences For Our Guests
We build and nurture trust through absolute attention to detail and by truly listening and taking time to understand the needs of our guests.
Growing People
Our guests deserve the very best at all times, and to ensure this, we are committed for the very long-term to investing time and resources in growing and nurturing our greatest asset – our team – future leaders in hospitality.
Transforming Lives
The Pema is dedicated towards creating positive and meaningful impact on the environment around us. We support sustainable and green practices, the arts, cottage and small enterprises, community heroes supporting Bhutan's development goals in both public and private spheres.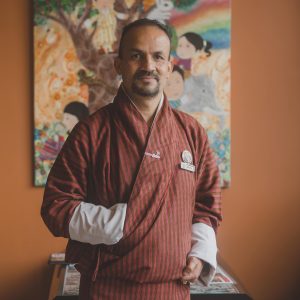 Bishnu
Food and Beverage Service
"The Pema by Realm is a home away from home. We connect people and spread understanding and happiness. It is a privilege that I get to do what I love every single day."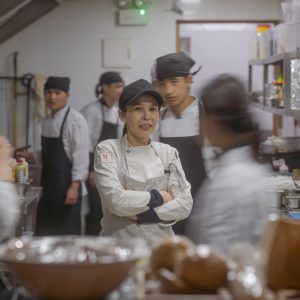 Chananthorn
Executive Chef
"I love to be inspired by new cultures through their beautiful local ingredients and flavors. Bhutan is a blessed Kingdom with great and compassionate leadership by His Majesty the King. Here at The Pema, we aim to set new benchmarks in hospitality. Bhutan's gorgeous outdoors and rich Buddhist heritage sites are a balm for my soul."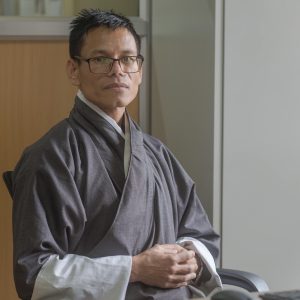 Chandra
Administration and Finance
"Diversity and opportunity is what I love about the hospitality industry. The altruistic culture and principle of "Growing Together" is a most unique feature of The Pema Brand. I enjoy constantly learning new things and keeping up to date with innovative technology."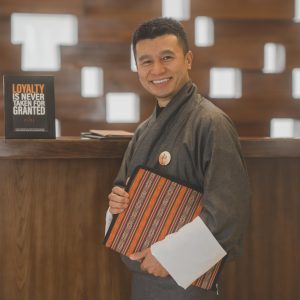 Hem
Front Office
"This Industry gives us amazing opportunities to explore the art and heart of hospitality and in impacting lives for the better. At The Pema by Realm, we "Grow Together" without forgetting our core value of being Bhutanese. I love staying calm in my free time which actually gives me energy to recharge."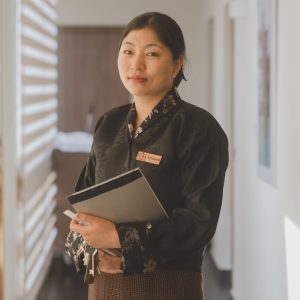 Sonam
Housekeeping
"Our industry is all about promoting humanity and service. Here at The Pema, we are building a brand synonymous with excellence and sustainability. I believe we are truly blessed to be Bhutanese. Every day, my family and I enjoy the simple things in life."
A LOVE STORY
What does a social worker and an economist have in common? Not too much, but that's where the story of The Pema begins, because it all started with the marriage of two very diverse minds and a love affair to last lifetimes. 
"Both of us found each other at a time when our lives were just beginning and in the process of growing up, we fell in love with our country all over again! We see so much potential in our land, in our people, and we know that what comes naturally to us as a nation, can become something to proudly share on a global stage." 
The story of The Pema itself dates back to 2015 when founders, Gyaltshen and Pema, out of their deep love for their country and a passion for architecture, food and travel shared a dream.
"We are immensely blessed to be born Bhutanese and to live under the reign of Visionary and Benevolent Monarchs. As proud citizens and subjects, what we ultimately leave behind is how we'll impact the quality of life around us – we believe that this is our opportunity to contribute in a small way towards nation building."
The Pema by Realm commenced full operations mid-2019 and what started as a dream of 2 has now become the big, bold dream of 60 passionate individuals – To create and build a Bhutanese homegrown hospitality brand synonymous with excellence and innovation,setting the highest standards in thisindustry that we adore.
"We are not in the business of hotels, we are in the business of growing people, for people are at the heart of change and sustainable growth."
Gross National Happiness, Bhutan's guiding development philosophy founded by The Fourth King of Bhutan, Jigme SingyeWangchuck, highlights human welfare at the heart of national progress. One of the core pillars of The Pema philosophy is that of investing in and growing human resource capability, for our people are our greatest asset. With representation from most of Bhutan's twenty districts, The Pema is comprised of driven, committed and passionate ladies and gentlemen.  
"Together We Grow, Together We Can," has been The Pema Family motto since 2020 as most of the early years were spent weathering the COVID19 pandemic. Launching a brand during the most challenging period in history, has taught us to focus on the positive, to innovate, and to persevere; above all, that community is vital and we must always support one another.As famous American educator, Booker T. Washington said, in order to lift ourselves up, we must lift others first.
Undoubtedly, these experiences have reinvented and shaped our entire approach to this industry. 
Today, we are an award winning design hotel uniquely focused on curating the most exciting culinary experiences, renowned for bespoke leisure and corporate events, strong community engagement, and connecting travelers and locals creating opportunities for serendipitous and memorable moments. 
When you walk through our doors, be prepared to be treated to the unexpected. From our quirky interiors at M Bistro, to eclectic lobby music playlists, business meetings held in style, and locals bustling in and about the many cozy corners around The Pema where our restaurants are more famous than the hotel itself, we are anything but predictable. Maybe that's why we are told people gravitate towards the warmth and energy our ladies and gentlemen exude.
Come connect at The Pema.
WHAT'S IN A NAME?
Contrary to popular opinion, The Pema is not named after its founders!
The Pema or "Lotus" is one of Bhutan's gorgeous 8 lucky symbols representing strength and resilience.
During your time at The Pema, you'll get a glimpse into the vastly colorful heritage of Bhutan, a Kingdom also known as "Drukyul" or the "Land of the Thunder Dragon." And it is a heritage that is dotted with mystical creatures, symbols, and folk tales celebrated through our art, crafts, in our daily speech, the way we eat, drink, dress and carry ourselves. 
Experience The Pema to celebrate Bhutan.